2017 Kia Niro Brooklyn, New York
Hurry over to Island Kia near Brooklyn, New York to review the all new 2017 Kia Niro. Introducing the 2017 Niro. A new approach to what a hybrid crossover can be. It achieves an EPA-est. 50 mpg combined and a near-600-mile range. And it features a high-efficiency 1.6L GDI engine and a smooth-transitioning dual-clutch automatic transmission that deliver pure fun behind the wheel. The Niro is the no-compromise vehicle. Thoughtfully designed to combine the benefits of the crossover and hybrid worlds. Like the forward-looking engineering and optimized fuel economy of a hybrid. And the versatile design and practicality of a crossover. It's the high-style, high-MPG adventure vehicle made for the no-compromise driver.
Learn all about your Niro with the Augmented Reality Owner's Manual for your smartphone or tablet. Featuring point-and-scan guides to useful videos and maintenance tips, it's the app that helps you get the most out of your Niro. The App lets you explore Kia's first-ever hybrid crossover up close. Discover 360-degree views. Watch virtual reality movies. Even explore color and wheel options with customization tools. The best part is, you do it all right from your iPad.
The wide stance. The sleek, dark trim. And, face to face, available High-Intensity Discharge projector beam headlights and LED positioning lamps for crisp illumination. From the stylish wheels to the rear spoiler, the Niro mates upscale style with athletic appeal, pushing the limits of what a hybrid can be. The Niro is smart aerodynamic design—from front to back, from the top all the way to bottom. Meticulously sculpted to minimize drag, the shape helps improve fuel efficiency. Clean lines give its impressive drag coefficient of .29 Cd. For minimized drag that helps maximize performance. The drag-reducing front end lets air pass freely, enhancing the Niro's fuel economy and contributing to a smoother, quieter ride.
It's a destination all on its own. Loaded with available amenities like soft leather seating and a heated steering wheel, the Niro is designed for maximum comfort. Plus, it boasts more interior volume than the Toyota Prius and more headroom than the Honda HR-V. That means more room for you to enjoy the ride. More than a cabin, it's your space to relax. Featuring a power driver's seat with lumbar support that adjusts up to 10 ways. And an available power sunroof that offers fresh air and sunlight at the push of a button. The Niro is a welcoming getaway tailored to you.
Meet the amazing team at Island Kia near Staten Island, New York so they can happily assist you in finding your 2017 Kia Niro.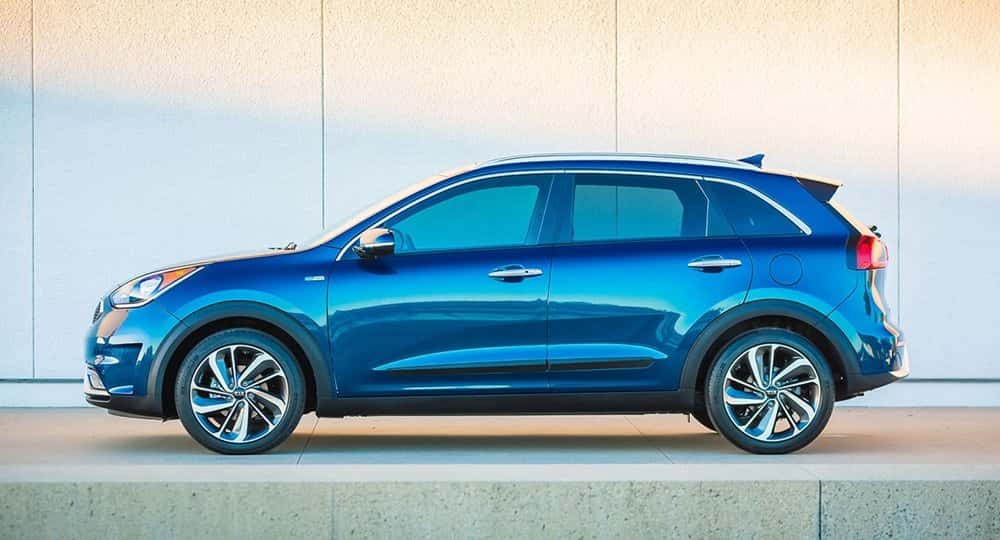 Kia Dealership near Newark | Dealership near me Staten Island