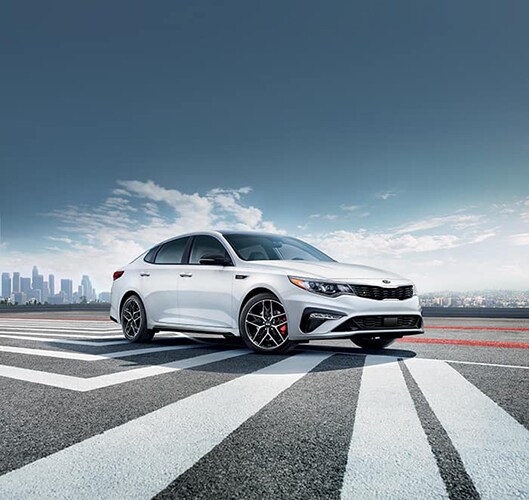 The
2020 Kia Optima is no ordinary sedan
. This vehicle is designed to stand out on the road with striking style, modern technology, and exhilarating performance. You can discover the Optima in five different trim levels for 2020; LX, S, EX, EX Premium, and SX.
The standard trim level of the 2020 Optima and the S trim level are powered by a 2.4 liter inline four engine. This engine can produce up to 185 horsepower at 6,000 rotations per minute (rpm) and 178 pound feet of torque at 4,000 rpm. Upgrade to the EX trim to enjoy the 1.6 liter turbocharged inline four engine that earns 178 horsepower at 5,500 rpm and 195 pound feet of torque at 1,500 to 4,500 rpm. If you opt for the SX trim level, you can receive a 2.0 liter turbocharged inline four engine that can earn as much as 245 horsepower at 6,000 rpm and 260 pound feet of torque at 1,350 to 4,500 rpm. The 2020 Optima is even available in a hybrid model and a PHEV model if fuel efficiency is a top priority to you.
The 2020 Kia Optima comes standard with Kia's Advanced Driver Assistance System. This system includes several innovative technologies, including lane keeping assist line and lane departure warning, lane change assist, forward collision-avoidance assist, forward collision warning, rear cross traffic collision warning, parking distance warning, and blind spot collision warning.
If technology is important to you, you can enjoy the 2020 Optima's UVO telematics, which supports Apple CarPlay and Android Auto. You can sync your smartphone to the Optima to stream your music library, access your favorite navigation apps, make hands-free phone calls, send hands-free text messages, and so much more.