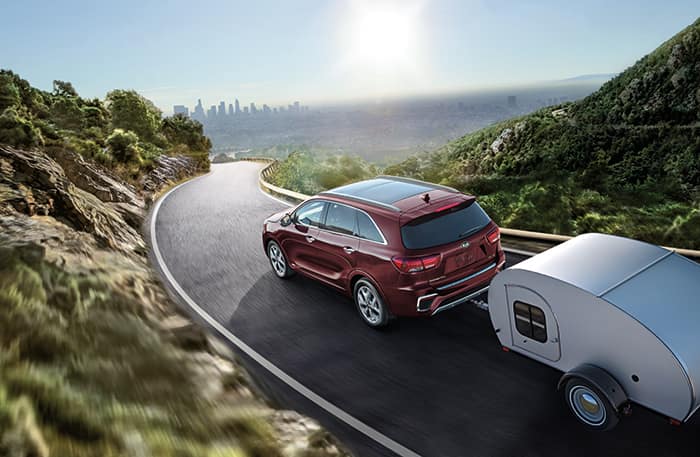 If you're in the market for an exhilarating, adventurous, and capable SUV, the
2020 Kia Sorento is for you
. This SUV can seat up to seven passengers. For 2020, you can find the Sorento in five different trim levels; L, LX, S V6, EX, SX.
The 2020 Kia Sorento is a midsize SUV designed to appeal to the needs of today's driver. The third row of seating provides plenty of space for your little ones, but you can also readjust the seating to accommodate cargo. Behind the front seat, there is 73 cubic feet of cargo space that is perfect for transporting everything from furniture, to luggage, to groceries. The 50/50 split-folding third row seats make it easy to adjust the cabin in a way that is most suitable for your needs.
The 2020 Kia Sorento is a modern vehicle packed with appealing features. The Sorento comes standard with stain-resistant cloth upholstery, cruise control, keyless entry, 17 inch alloy wheels, a rearview camera, and a new 7 inch touchscreen infotainment system. This system works alongside Apple CarPlay and Android Auto so you can sync your smartphone to your Sorento to stream your music library, make hands-free phone calls, send hands-free text messages, utilize your favorite navigation apps, and so much more.
The L and LX trim levels of the 2020 Kia Sorento are powered by a 2.4 liter inline four engine. This engine is capable of achieving up to 185 horsepower at 6,000 rotations per minute (rpm) and 178 pound feet of torque at 4,000 rpm. If you upgrade to the S, EX, or SX trims, you can enjoy the 3.3 liter V6 engine that is capable of earning as much as 290 horsepower at 6,400 rpm and 252 pound feet of torque at 5,300 rpm.