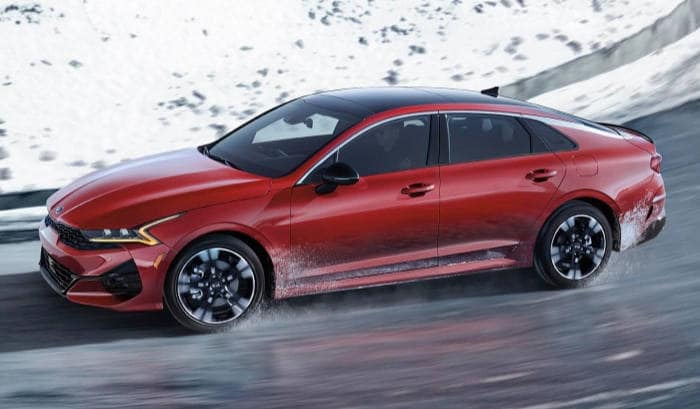 Are you ready to take a step up in sedans? If you are, you need to take a look at the Kia K5, which is all-new in 2021. The K5 represents a unique design in sedans, with a mix of luxury, style, technology and safety. Here is more information about the newly designed K5. 
The Latest in Design Technology
The K5 is designed to wow the senses, both on the exterior of the car and the interior of the car as well. The exterior is low and sleek, with large wheels, and a low-slung grille. You can choose between a turbo or standard engine, with four cylinders and 180 horsepower. Headlights and fog lights are LED, as is the interior lighting. The car also has a spectacular panoramic sunroof. 
The interior of the car has a sleek cockpit design to match the sleek exterior. The 10.25 inch touchscreen is one of the largest screens in the car, and of course the cockpit is smartphone enabled. Heated and ventilated seats are standard on driver and passenger seats. There is a wireless charging system for your devices, as well as USB ports in the backseats of the car. You can start the engine remotely with your key fob. 
The K5 has all of the safety features you would want in your car, such as rearview camera, emergency braking, lane keeping assist, blind spot warning and collision warning system, rear cross-traffic alert system, park assist and stability control. There is also a warning system for rear passengers, which many parents want for their young children, especially during the long, hot summers in New York. Add it all up, and the K5 is an amazing innovation in Kia design. 
When you're wanting to have a look at the Island Kia K5, you need to come and see us at 1581 Hylan Boulevard, Staten Island, New York, 10305. You can also call us for a test drive at 718.727.7000.