Awaken Your Soul in This Next-Generation Kia!
The outstanding feature of the Kia Soul is its unconventional nature. That started in 2010 with its introduction to the market. At times, the Kia Soul has been a top seller. A decade, and three generations later, its unconventional heritage is even stronger. So, what's new? Speaker lights, smartphone integration, an infotainment screen system, and an optional Harman Kardon audio setup.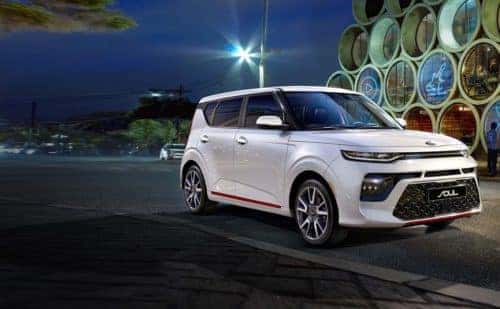 Part and parcel of the Kia Soul are the speaker lights. New, updated technology has replaced the original model's one-color lights. When music plays, the center and the upper portion of the door panels glow. Custom light choices include color, and synchronization; pre-programmed variations are also included.
Other new features are the sound system, which has twice the rated Watts as the current Soul, and the new sound system also has an amplifier plus 10 speakers, including a center speaker and subwoofer. And connectivity in the Soul now has smartphone integration and multiple Bluetooth device capability. It that's not enough, there is an HD color split-screen touchscreen, measuring over 10 inches.
The new Soul is not all show; there's plenty of go. There are two kinds of engines, and three kinds of transmissions. The standard engine is a 147 horsepower four-cylinder, 2.0-liter option available with either a six-speed manual transmission or a (new) intelligent variable transmission (similar to a continuously variable transmission). An optional turbocharged 201 horsepower 1.6-liter in-line four-cylinder is available with a seven-speed dual clutch transmission. Not satisfied with either? There is the Soul EV, with a 64 kWh battery bank, DC-fast charging. The EV has 201 horsepower.
The Soul's dimensions have not changed much, either inside or outside, though cargo space is increased by 5.0 cubic feet. Ease of use is improved with a lower liftgate that has a lift handle. And, improved manufacturing techniques make the Soul more crashworthy.
Island Kia will soon have the Soul you're looking for – reach out to us today at 844-667-4492 or at our dealership located at 1518 Hylan Boulevard in Staten Island!
Kia Lease near Long Island City