Kia Stinger Named Best of the Year!
Every year for the past 36 years, MotorWeek recognizes vehicles as part of their Drivers' Choice Awards. The vehicles recognized are notably innovative and valuable to the car-buying public. Fourteen vehicles are provided with honors in their specific segments and one vehicle is given the top honor of Best of the Year. For 2018, the Kia Stinger brought home this title.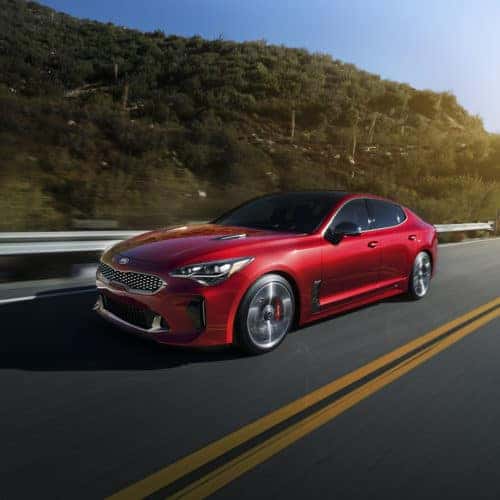 "The accolade is just the latest in a long string of acknowledgments for Stinger, which went on sale last year," the Kia Media press release explains. The Stinger is "redefining a staid sport sedan segment." The Stinger is known for stunning appearance, fun performance and innovative design.
"What's innovative about Stinger isn't its extraordinary handling, drop-dead style or eye-popping performance; that's expected in this segment and Stinger delivers on every front," said Orth Hedrick, vice president, product planning at Kia Motors America. "What's innovative is that we brought this car to market at such a tremendous value and it's an honor to be recognized by the MotorWeek editorial staff for this accomplishment."
The MotorWeek Drivers' Choice Awards are focused on consumers. Winners of specific segments are picked based on lifestyle, driving dynamics, performance, technology, practicality, fuel efficiency and dollar value. A vehicle that earns the top honor at the Driver's Choice Awards is a perfect match for nearly any driver, combining all of these features together into one extraordinary vehicle.
"Our annual Drivers' Choice Awards look at vehicles from a buyer's point of view," said MotorWeek host John Davis in the Kia Media press release. "We are aware of trends and innovations, and they play a large part in our selection process. We also understand that consumers want value and reliability and that's where we believe the Kia Stinger hits the sweet spot. It's practical, great to look at, and can be a performance car or an everyday driver, depending on who's behind the wheel."
Don't miss your chance to get behind the wheel of the Kia Stinger for yourself. This award-winning vehicle is available at Island Kia, so come check it out! We are located at 1581 Hylan Boulevard in Staten Island, New York, and can't wait to show off this vehicle to you!
New York Kia Dealers | Long Island Kia Stinger