Break the Rules in the 2019 Kia Forte
If you are looking for value and design, we would advise you to look no further than the redesigned 2019 Kia Forte. The compact vehicle has already won numerous awards including the #1 pick for small cars in 2019. We are not surprised as the car drives well, looks great, and has enough features to compete with any other compact vehicle out there. Here are some of the standout features.
Pricing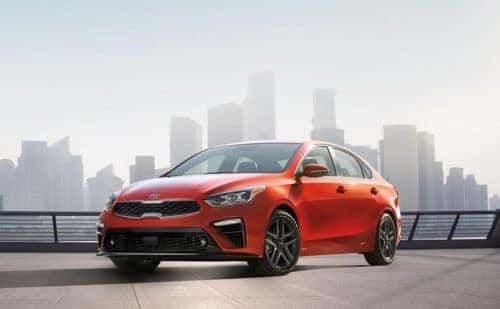 We have to start with the price because it is a highlight of the vehicle. The 2019 Kia Forte has a starting price of 17,000, which is excellent for a model of the year. The smooth body and additional cargo space also contrast well with the price as they show the value for the money. The revamped exterior and interior are undoubtedly part of what is making this model a big hit.
Features
The 2019 Kia Forte has some impressive features. The full touch-screen system presented is compatible with Apple CarPlay and Android Auto so that you can cruise along with some of your favorite features. Lane keeps assist and driver attention monitoring make driving a whole lot safer and are highlights of the vehicle. Emergency braking features are also available, completing the ride.
Compact Ride
Gliding through the city? Out on the open road? One of the great things about the 2019 Kia Forte is how it drives. The smooth transmission changes and small contour of the vehicle make for a quiet and fantastic driving experience. It is no surprise that the compact car is atop many compact vehicle lists.
Come and visit us today at Island Kia located on 1581 Hylan Boulevard in Staten Island or call us at 844-667-4492 to inquire about the 2019 Kia Forte or other Kia models you may be interested in. We are proud to offer one of the most sought after lines of vehicles on the market.