Buying vs. Leasing at Island Kia
As you head to Island Kia, keep in mind that you have two options when it comes to getting behind the wheel of your next vehicle. At Island Kia, you can buy or lease a Kia vehicle of your choice. These two options are great, but one may be more beneficial to you than the other. Learn about car buying vs. car leasing at Island Kia by reading on!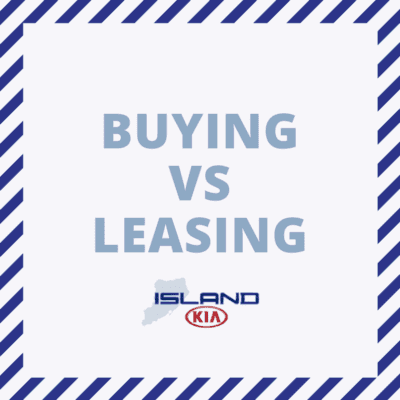 When you buy a car from Island Kia, you become the owner as you make monthly payments. When buying a car, you can choose to make a large down payment to reduce your monthly payments, or you can make a small down payment and pay more along the road. You can also visit our finance department to discuss your options and seek assistance from a lender. On the other hand, when you lease a vehicle from Island Kia, you don't own the car. This means you will pay smaller monthly payments than if you were to purchase a vehicle. This also means that we here at Island Kia will cover some costs when it comes to maintenance and repairs.
Another perk to leasing a vehicle, rather than buying it, is that the long-term value does not affect you. When you lease a car from Island Kia, you don't have to sell the vehicle once your lease expires. Simply return the car to us and select a new vehicle to lease. You can stay up to date on the latest automobiles without worrying about the resale value of your car.
Buying is an outstanding option for those looking to 100 percent own their next vehicle. However, if you're not interested in making an investment in your next vehicle, consider leasing from Island Kia.
Learn more about the cars we have available for lease by giving us a call at 844-667-4492. You can also visit our Kia dealership at 1581 Hylan Boulevard in Staten Island, New York. We hope to see you soon!
New York Kia Financing | Staten Island Buying vs Leasing