Discover the Sorento's Towing Capacity
Kia has developed one of the strongest brands for reliability in the automotive business. When people want a car that will not only last for a long time but also have minimal issues, the Kia is often the most obvious choice. As for the Kia Sorento, one of its biggest attractions is not that it's a big, beautiful SUV. The power and control it offers are often its major selling point, especially for someone who wants something with a nice towing capacity.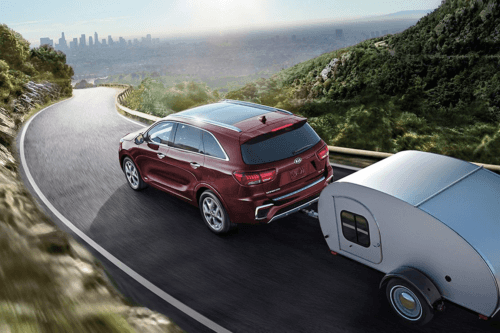 Towing With the Base Engine
The Sorento LX boasts of a towing capacity of about 2,000 pounds made possible by its impressive spec sheet. From this base model, you can expect a 2.4L DOHC I-4 engine coupled with a 6-speed automatic which churns out 185 hp and has a fuel economy of about 23mpg combined.
Towing With an Upgraded Engine
Moving up the ladder to more expensive models such as the S, SX, EX, and SXL, you will have access to even more power and an increased towing capacity. If you are looking for an SUV that can tow heavy items such as construction equipment and machinery, the Kia Sorento is the car for you. Thanks to their larger engines, you can expect a towing capacity of 3,500 pounds for the front wheel cars and about 5,000 pounds for the all-wheel-drive configurations. By using the 3.3L DOHC V6 engine coupled with 8-speed automatic transmission, you can expect this beast to churn out 252 lb-ft of torque which is powerful enough to tow such weights comfortably.
To keep everyone safe, the Kia Sorento has a host of safety features such as vehicle stability management, electronic stability control, and traction control. At Island Kia, we will make sure that you find the model to best suit your needs. If you are interested in purchasing a Kia, visit us today at 1581 Hylan Boulevard in Staten Island or call us at 844-667-4492 and we'll be glad to help.