A Great Deal of Value is Packed in the 2018 Kia Forte!
The 21st century can arguably be called the century of Kia. Progressing beyond early impressions of a low-cost alternative, recent decades have seen Kia breakthrough into the big leagues, competing directly with the automotive giants of history.
The 2018 Kia Forte is a compact sedan or hatchback that relies on Kia's core competencies of low-cost dependability combined with high-value amenities and layout. The hardware beneath the hood focuses on economy function, combining a 2.0-liter 4-cylinder engine with an available direct injection setup that provides 164 horsepower and 151 lb-ft of torque. Mated to a six-speed automatic transmission, the Forte is designed first and foremost to be a gas-sipping efficient economy vehicle and in this, it succeeds.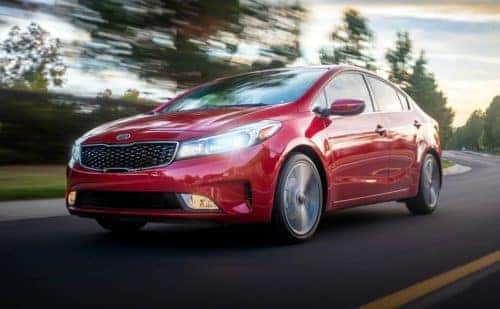 As a compact sedan, the 2018 Forte has limited space. However, Kia has artfully arranged the space in intelligent ways, allowing for a comfortable cabin for all of its passengers. Special attention has been given to the front seats, both of which can be equipped with available heating and cooling options. Fine high-quality materials adorn the interior, while noise-canceling engineering grants a ride free of road sounds. In addition to cabin space, the Forte's volume strength is in cargo, with a 14.9-cubic-foot trunk in the sedan and 23.2 cubic feet in the hatchback. A total 53 cubic feet can be unlocked if the rear seats are shifted forward, making the Forte best in class for space.
In addition to affordability and dependability, Kia has also built a name for itself with regards to safety. The National Highway Transportation and Safety Administration awarded the Forte with an overall five-star safety rating and a Top Safety Pick+ award, the highest accolades available from the NHTSA. Available safety systems include a rearview parking camera, forward-collision warning and autonomous emergency braking.
The 2018 Kia Forte has a great deal of value packed into its minute frame, but the most encountered features deserve final mention. With available options such as keyless entry, satellite radio hardware, and Bluetooth connectivity, plus premium features such as leather upholstery, automatic climate control, sunroof and keyless ignition, the Forte is a hard deal to pass on.
Island Kia is a Staten Island dealership and part of the Island Auto Group. Our Values-Driven philosophy is the guiding principle amongst our trained and qualified sales staff, and we are committed to providing our customers with a world-class car-buying experience. Visit our location today at 1581 Hylan Boulevard in Staten Island.
Kia Dealership Near Newark | Brooklyn Kia Forte