How Does the Kia Sportage Compare to the Toyota RAV4?
Compact SUVs are among the most popular vehicles on the road. These vehicles are spacious enough for an entire family, but also compact enough for agile and fuel-efficient performance. If you are looking for a compact SUV to meet your needs, there are a lot of options to choose from. Two of the most appealing compact SUVs are the 2020 Kia Sportage and the 2020 Toyota RAV4. For help picking between these two compact SUVs, just continue reading this blog post.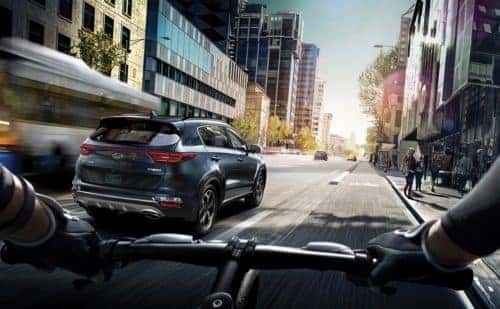 Under the hood of the 2020 Kia Sportage is either a 2.4-liter four-cylinder engine that earns 181 horsepower or a turbocharged 2.0-liter engine that earns 240 horsepower and 260-pound-feet of torque. Opt for the first engine to achieve 22 miles per gallon (mpg) in the city and 30 mpg on the highway, or the second selection for 20 mpg in the city and 28 mpg on the highway. If you look at the 2020 Toyota RAV4, you will find an engine that earns only 203 horsepower and 184 pound-feet of torque. If you're interested in power, opt for the Sportage.
Many people shop for compact SUVs because they want to accommodate the needs of their family. If you intend on using your vehicle to transport loved ones, you probably want a car with a convenient and comfortable cabin. The 2020 Kia Sportage is available with Android Auto and Apple CarPlay. These features allow riders to sync their smartphone to the vehicle so they can stream their music library, make hands-free phone calls, utilize navigation apps, and so on. The 2020 Toyota RAV4 is available with this as well, but only as a more expensive upgrade. When it comes to interior space, the 2020 Sportage offers 41.5 inches of front legroom and 38.2 inches of rear legroom, versus the RAV4's 41 inches of front legroom and 37.8 inches of rear legroom.
Want to make the 2020 Kia Sportage yours? If so, make your way to Island Kia! You can find us at 1581 Hylan Boulevard in Staten Island, and we hope to see you here soon!
Kia Dealer near Jersey City | Staten Island Kia Sportage