Kia and Amazon Team Up!
Kia and Amazon teamed up to create a one-stop home charging solution for electric vehicles. This solution makes it easier than ever for Kia EV and PHEV drivers to charge their vehicles from the comfort of their own home. To learn more about this partnership between Kia and Amazon, just continue reading.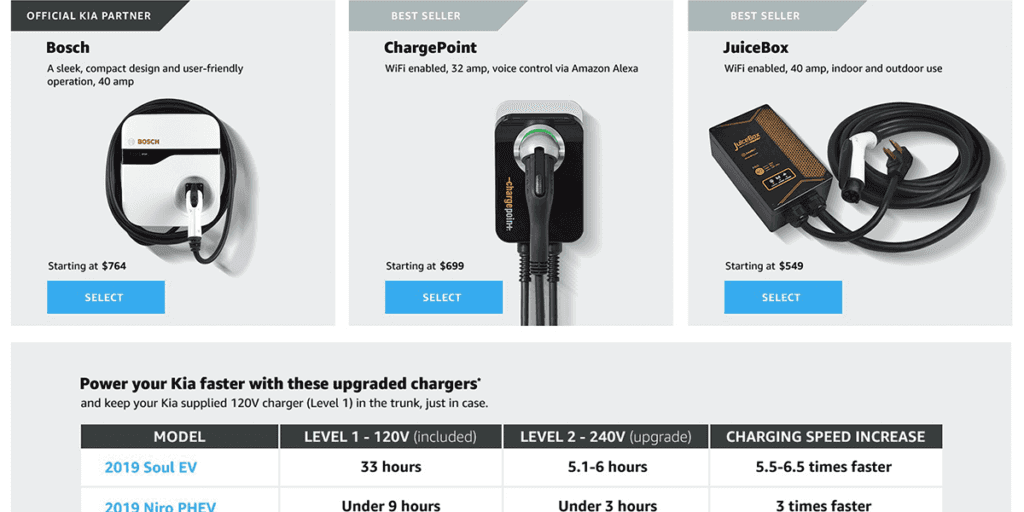 The Kia and Amazon pairing allows drivers of the Kia Soul EV, Niro EV, Niro PHEV, and Optima PHEV to charge their vehicle from home through an easy and affordable system. The home chargers available can be found on Amazon's website on their Charge My Kia page. This page includes recommended charging units hand selected by the team at Kia. Here, drivers can find information about the systems, the installation process, and reviews from fellow customers. There is also upfront pricing for services provided by a licensed electrician to install the chargers and outlets if needed. Everything Kia EV and PHEV drivers need is all in one place on Amazon's website, thanks to this recent partnership.
"Home-charging can't get any easier than this," said Orth Hedrick, executive director of Car Planning and Telematics at Kia Motors America. "Being able to order a Level 2 charger and installation through Amazon further demystifies and simplifies the experience for new Kia EV and PHEV owners. It's just another example of how we're constantly striving to provide the very best vehicles and customer experience," he continued in the Kia Media press release.
If you're interested in owning a Kia EV or PHEV vehicle, now is a better time than ever! Come see our inventory of Kia vehicles at Island Kia. We are located at 1581 Hylan Boulevard in Staten Island, or you can call us at 844-667-4492. We hope to work with you soon!
Kia Dealership near Brooklyn