Sedan vs. Sedan: Kia Optima Takes on the Camry
Sedans are a popular vehicle option for families, as well as individuals interested in a functional and practical car. For years, the Toyota Camry was among the most popular sedans on the road. However, the Kia Optima has made its mark in the mid-size sedan market. Compare the 2019 Kia Optima to the Toyota Camry by reading on.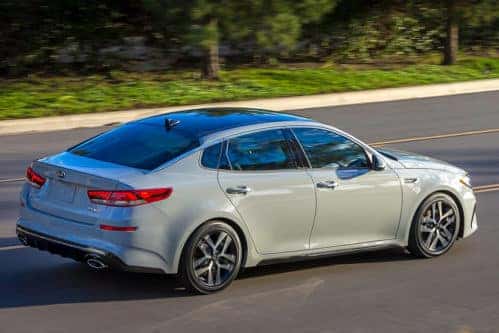 The Toyota Camry is a popular vehicle, which blends into the crowd. Meanwhile, the Kia Optima brings style to the table. Comparing it to other mid-size sedans, the Optima is more eye-catching, attractive, and stylish. The exterior of the 2019 Optima features a Euro-inspired grille that is modern and luxurious in appearance, as well as an interior that is cozy and sophisticated.
When it comes to options, the Kia Optima allows for more customization. Both the 2019 Toyota Camry and the 2019 Kia Optima are available in hybrid options, but the Optima takes it one step further, offering three different engines. The Camry only offers two engines, including a V6 engine that burns fuel faster than the Optima's more fuel-efficient options.
Reliability is key. Car buyers want to find a trustworthy, accommodating vehicle that is valuable and long-lasting. The 2019 Kia Optima proves its reliability, earning recognition from J.D. Power through their Initial Quality Study. In 2018, Kia became the most-awarded brand by J.D. Power through their ongoing studies. To prove their dependability, Kia backs their vehicles with a warranty that is twice as long as Toyota's. Your 2019 Optima comes with two additional years or 24,000 additional miles of bumper to bumper coverage in comparison to the 2019 Camry, as well as five extra years or 40,000 extra miles of engine and powertrain coverage.
The 2019 Kia Optima has what drivers are looking for in a mid-size sedan. To test drive this vehicle, check out Island Kia at 1581 Hylan Boulevard in Staten Island today!
Kia Dealership near Woodbridge | Kia Optima vs Toyota Camry