Kia is pushing the automotive industry forward with innovation. The 2024 Kia EV9 is a concept car that is modern, technologically advanced, and sure to impress. Keep reading for a sneak peek into the 2024 Kia EV9.
The Kia EV9 made its first appearance at the Los Angeles International Auto Show. The vehicle is all-electric and part of the list of 11 new electric vehicles expected from Kia by 2026. This concept car is estimated to have a range of 300 miles per charge, as well as fast charging times that can help drivers spend more time on the road. If you're interested in an efficient SUV, but need to accommodate the needs of your family, the 2024 Kia EV9 is the perfect choice for you and your loved ones.
The exterior of the EV9 is 194 inches in length and 81 inches wide. It is also 70 inches tall and has a 122-inch wheelbase. This length is similar in size to the Kia Telluride. The vehicle's exterior design is tall and boxy, giving a luxurious look that is sure to turn heads. The vehicle rides on 22-inch machined aluminum wheels.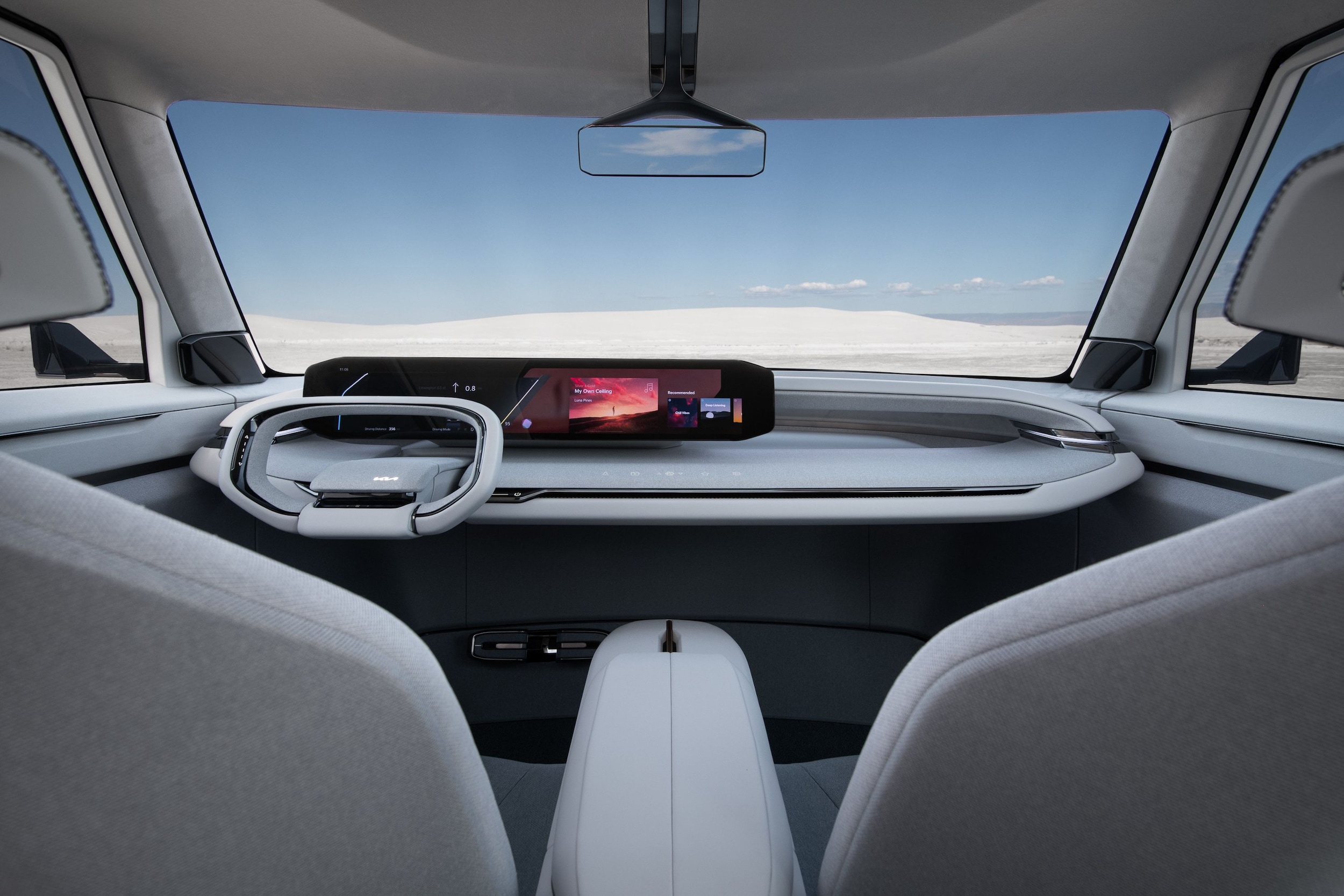 When you climb into the cabin of the 2024 Kia EV9, you are greeted by a streamlined design that is smooth, sleek, and modern. The SUV uses recycled materials as a way to promote sustainability. The flooring is made from fishnets and the seats are constructed from water bottles and wool fibers.
A 27-inch ultra-wide display sits on the dashboard of the Kia EV9. This display combines the instrumental panel with the infotainment display for a smooth and easy-to-read system. Drivers can adjust the climate controls, media menus, and more via this screen.
The 2024 EV9 is a three-row all-electric SUV, perfect for the eco-conscious family on the go. The flexible seating allows for generous passenger space, cargo capacity, or both. You can even put the vehicle in Pause Mode to turn the front seats around and transform the second row into a table. Stationary Mode is another cabin adjustment that allows the third-row seats to turn all the way around for enjoying a view or tailgating.
This family-friendly SUV is designed with your loved ones in mind. That's why the Kia vehicle comes with a blind-spot view monitor and Kia's Drive Wise safety suite. This suite of driver-assist safety technologies includes intelligent high beams, self-parking functionality, blind-spot monitoring, navigation-based smart cruise control, lane-departure warning, pedestrian detection, forward collision avoidance, and more.
You can stay in the know with the latest Kia has to offer by getting in touch with Island Kia. Our new and pre-owned Kia dealership is located at 1581 Hylan Boulevard in Staten Island, NY, and our sales team is reachable by phone at 718-727-7000. We look forward to keeping you in the loop with the Kia EV9!